Tabitha Volunteer Spotlight
Tabitha Volunteer Spotlight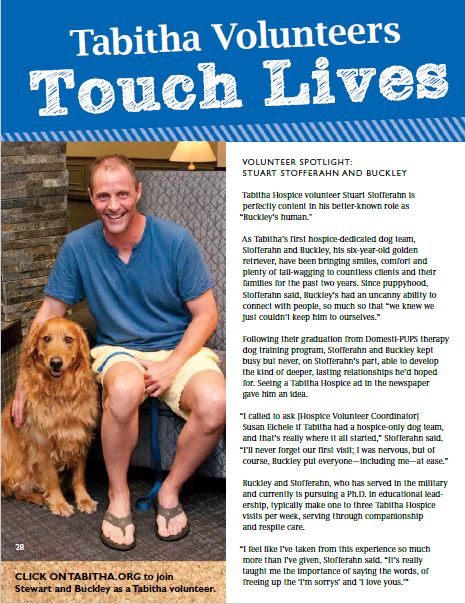 Volunteer Spotlight:
Stuart Stofferahn and Buckley Tabitha Hospice volunteer Stuart Stofferahn is perfectly content in his better-known role as "Buckley's human."
As Tabitha's first hospice-dedicated dog team, Stofferahn and Buckley, his six-year-old golden retriever, have been bringing smiles, comfort and plenty of tail-wagging to countless clients and their families for the past two years. Since puppyhood, Stofferahn said, Buckley's had an uncanny ability to connect with people, so much so that "we knew we just couldn't keep him to ourselves."
Following their graduation from Domesti-PUPS therapy dog training program, Stofferahn and Buckley kept busy but never, on Stofferahn's part, able to develop the kind of deeper, lasting relationships he'd hoped for. Seeing a Tabitha Hospice ad in the newspaper gave him an idea.
"I called to ask [Hospice Volunteer Coordinator] Susan Eichele if Tabitha had a hospice-only dog team, and that's really where it all started," Stofferahn said. "I'll never forget our first visit; I was nervous, but of course, Buckley put everyone—including me—at ease." Buckley and Stofferahn, who has served in the military and currently is pursuing a Ph.D. in educational leadership, typically make one to three Tabitha Hospice visits per week, serving through companionship and respite care.
"I feel like I've taken from this experience so much more than I've given, Stofferahn said. "It's really taught me the importance of saying the words, of freeing up the 'I'm sorrys' and 'I love yous.'"