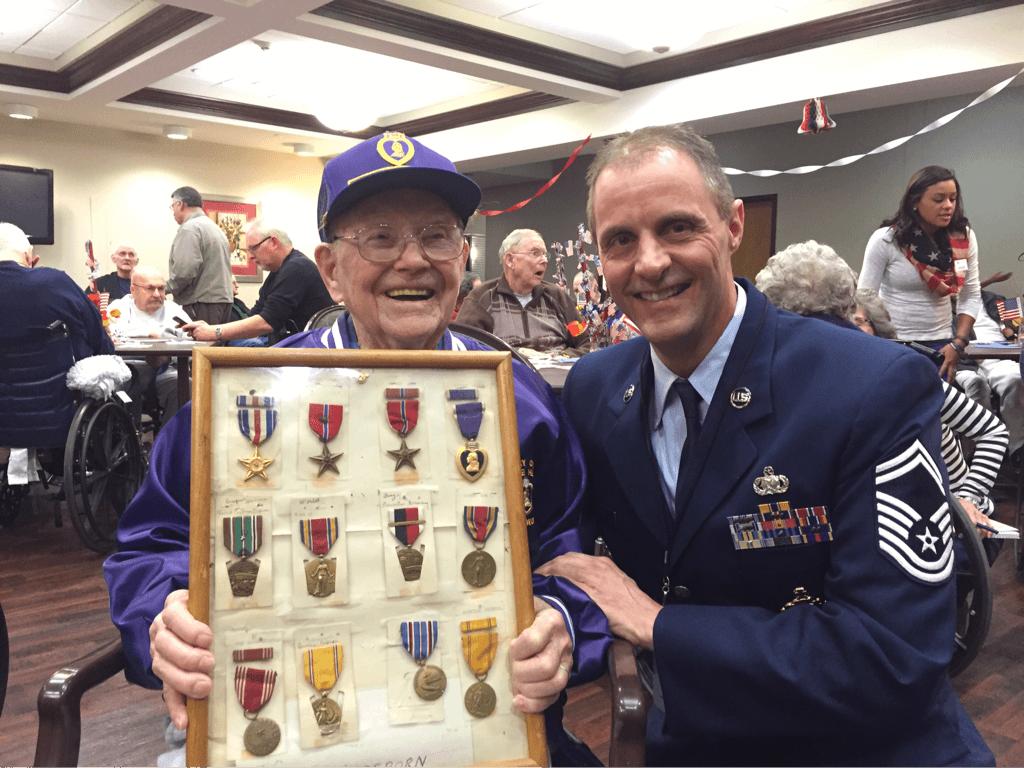 It's nearly 10:00 PM, and I have just completed the required paperwork for the visits Buckley and I did for the day. This always brings reflection.
We were asked to come visit Max, a WWII vet. We had met him once before at a pinning ceremony last Veteran's Day, so I knew him, but I didn't know his story, so we couldn't wait to visit with him.
When we entered the room, he was there in his wheelchair donning his Purple Heart. After our introductions, I asked him if he wouldn't mind telling the story behind the metal. He laughed and said he was a hero for running away from gunfire. I gently pushed for more details.
While under heavy attack, his company was forced to retreat. While in retreat, bullets flying all around him, he ran right past one of his lieutenants who had been hit and was bleeding badly – unable to walk. Without hesitating, he lifted the lieutenant and carried him between a quarter/half mile to an ambulance.
After he carefully handed his Lieutenant to the Army corpsman, he was told to seek first aid for himself because he was "covered in blood".
"That's not my blood," was his response.
After he had time to rest and find different clothes, he did discover that he had received a bullet would to his right temple – Enough to send him to the hospital.
"I'm not sure I deserved the Purple Heart."
No Max – you deserved the Medal of Honor.