It wasn't going to be a routine visit.
Everything else was routine – Buckley brushing and primping, a little pep talk, brushing jealous Cooper, donning the vest, and off we went. For the past couple months, our first visit of the day had been Roger, and we had come to expect the same enthusiastic greeting: "How ya doin', Buckley ol' Buddy?!"
This week when we arrived, Roger was clearly agitated. When he spoke, the source of his agitation was clear, as he was suddenly toothless. Whether his dentures were misplaced or accidentally discarded was unclear, but the fact was that now he had to cope – at least temporarily – with puréed meals. For anyone, this would not be a fun proposition – but for someone who is actively dying, it's a real kick in the pants.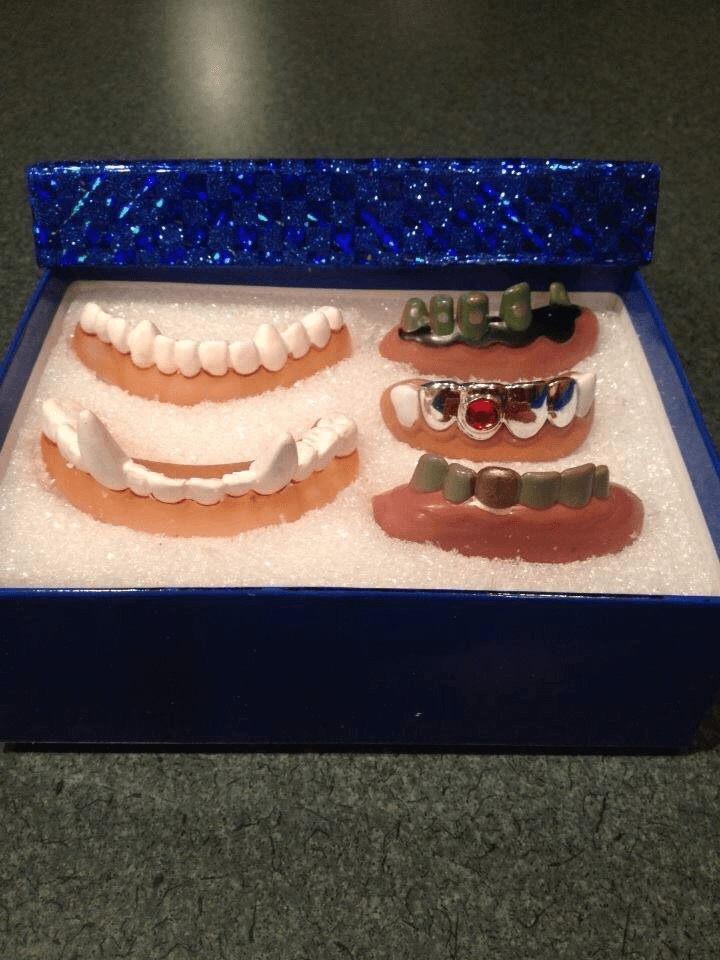 He would have to endure this situation for ten days while new dentures were fitted and obtained. That day, Buckley and I got to hear the cussing of an actual WW II sailor. He and I were both impressed – and I grew up on a farm.
I knew with time, Roger's emotions would calm, and his humor would return, so Buckley and I put a plan in motion. We decided that we wanted Roger to be prepared, should he ever be in need of temporary replacement dentures again, so we ventured out to costume shops and gag gift stores throughout the city to find the perfect variety of temporary replacements, and we waited for the perfect time to present them to him.
Two weeks later, we found our opportunity. In a very serious tone, I told him that Buckley and I took it upon ourselves to purchase a set of replacements in case another unfortunate incident like this should befall him again.
When I opened the box, a fit of laughter ensued. The kind of genuine, pain-in-the-side laughter that comes so rarely, but that is so necessary. He tried on every piece, and every time he looked in the mirror, the laughter began again. We must have laughed for half an hour.
Roger died just two weeks later.
​He wanted me to have the teeth.